Mission Statement
ASSP's Women in Safety Excellence (WISE) Common Interest Group advances ASSP members and the safety profession through education, mentorship, networking, collaboration, research and innovation.
What is WISE?
WISE has been established to foster the advancement of women in the safety, health, and environmental (SH&E) profession through the objectives contained in our mission statement:
Fostering an environment that allows members to share ideas
Ongoing evaluation of the state of women in the SH&E profession
Mentoring women in the SH&E profession
Networking to strengthen professional relationships
Obtaining professional certifications
Promoting the development and peer review of written material related to issues specific to women in the workplace as well as within the SH&E profession
To learn more about the National WISE organization:
To learn more about the Hawaii WISE Chapter, please contact:
Zoe Williams zwilliams@hawaiigas.com (808) 388-3721
Joey Garza joey.shibata@gmail.com (808) 489-1874
Upcoming Events
More to come
Past Events
2018-2019 Chapter WISE Receives a Bronze Distinction Award
Our chapter was presented with the Bronze Distinction Award at the ASSP Safety 2019 conference in New Orleans, Louisiana in June 2019.
Thank you WISE Gals and Guys for all your dedication in making this year successful!
Pictured Left to Right: (Front) Joey Garza, Zoe Williams, Mary Browne, Mahea Villanueva; (Back) Tristan Aldeguer, Adam Cotton
Fall 2018 Mentoring Program Kickoff Pau Hana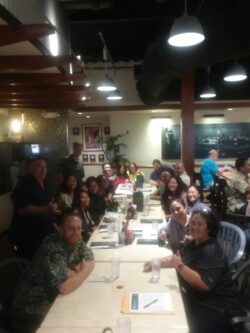 Pictured Left to right: Jason Collins, Kimo Alama & wife, Chulee Grove (HCC Student Section Faculty Advisor), Amber Kenui, Mahea Villanueva (Hawaii Chapter Secretary), Adam Cotton (standing, Hawaii Chapter Delegates), Arthur Chang, Jordan Masoli, Lisa Avilla, Ku`ualoha Shoaf, Cory Taylor, Joe Albinio, Dan Kau`i, Kelsey Barbosa-Grogan (HCC Student Section Treasurer), Gina Kanekoa (HCC Student Section Vice Presiden), Ruby Canakis (Mentoring Program Chair-person), Joey Garza (Hawaii Chapter Vice President and WISE Co-Chairperson).
On October 19th at Nico's Pier 38, the usual pau hana crowd was joined by a lively group of dedicated individuals – eager to share their stories with aspiring Occupational and Environmental Safety Managers.
W.I.S.E. Mentorship Program launched its 2018 Meet & Greet with Mentors and staff  from OESM, and Mentees from Honolulu Community College (HCC).  These career goal seeking HCC students and OESM Professionals gathered for an introductory networking opportunity.  The take away message conveyed was that all mentors are committed 100% to helping the students on their pathway to becoming successful OESM professionals.
The students were quite impressed with their mentors and eager to learn more about their profession, "I love my mentor, thank you for matching me up with them!"
For more information, please contact Ruby Canakis, CHST, STSC, 808-371-4441.
2017-2018 Chapter WISE Receives a Platinum Distinction Award
At the ASSP SAFETY 2018, Hawai'i Chapter Wise was recognized and awarded the Platinum Distinction Award.
Thank you Zoe Williams, Joey Garza, Marie Aldover, and Alexis Naito for your diligence and efforts in bringing our Chapter to Platinum Award status.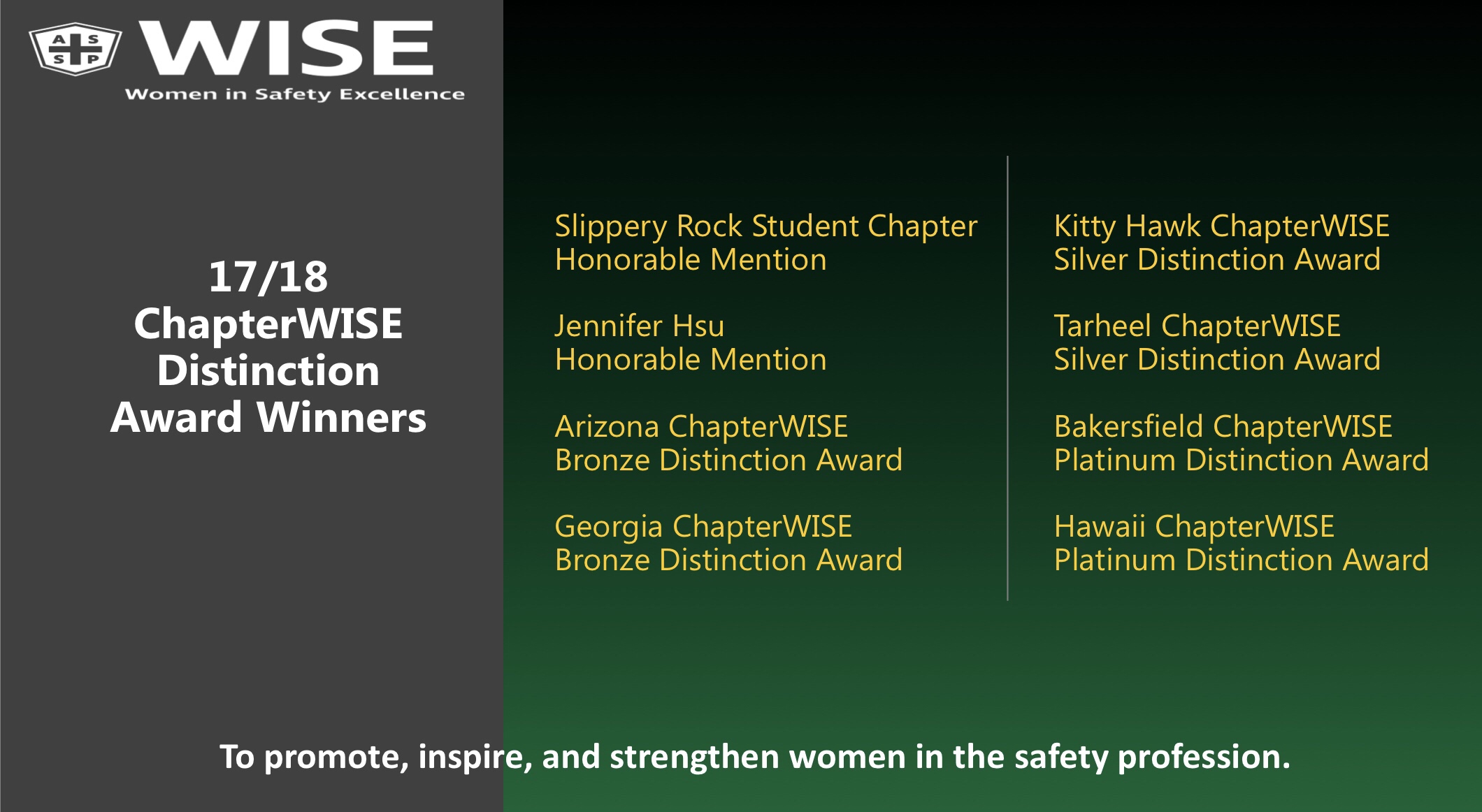 WISE Guys and Gals at the Region 1 ROCLahaina, Maui, Hawaii
Left to right (back):  Jim Newberry (Hawaii), Traci Snyder (Lower Columbia Basin), Paula Jones (Columbia Willamette), Jennifer Harris (Greater San Jose), Kristi Hayden (Cascade), Joaquin Diaz (Hawaii), Tami Galt (San Francisco), Jose Perez (Bakersfield)
Left to right (front):  Christy Foster (Great San Jose), Corinna Kuplewiser (Columbia Willamette), Marie Aldover (Hawaii), Joey Garza (Hawaii), Zoe Williams (Hawaii)
WISE Pau Hana – Friday (1/20/2017)  The Social Room, at the Symphony Honolulu
Pictured left to right: Marie Aldover, Alexis Naito, Jim Newberry, Joey Garza, Cesar Contreras, Joe Bussen, Arthur Chang
Safety Professionals gathering to discuss suggestions on topics and training opportunities that WISE Mentoring could provide.
WISE Hawaii Chapter Development Luncheon
On Wednesday (7/27) the WISE Hawaii Chapter group hosted a professional development luncheon.  Our guest speaker was Ed Williams with 1st Safety Services (http://www.1stsafetyservices.com/)  Our topic was "Pro-Active Safety Management – don't learn safety by accident – learn the tools and methods used by safety professionals to have a successful, effective, and safety jobsite".   Attendees were:  Michelle Sakamoto (Paul's Electrical), Zoe Williams & Alinna Figueroa (Hawaii Gas), Alexis Pangilinan & Sani Buckley (Hawaiian Dredging), Debbie Miyahana (Ultimate Innovations), Jim Newberry (Island Insurance), Steve Kalani (Commercial Roofing), and Marie Aldover (Oahu Transit Services). A special thanks goes out to Lyn Tampon with Goodfellow Bros., Inc. for organizing the event.
Key takeaways were:
Myths about OSHA/HIOSH requirements – a good number of insights identified that most folks think are true, but are not, reinforcing the importance of reading the regulations yourself!
Read & know, look ahead (be proactive!)  As safety professionals we have a responsibility to help safe production occur, every day.  Our role supports the success of our business.
A Safety Program has three parts:

Procedures – Safety & Health Manual, JHA / AHA, etc.
3rd Annual Personal Development Retreat June 25, 2016
During the ASSE Personal Development Retreat, WISE Hawaii received recognition for efforts in the first year as an official chapter.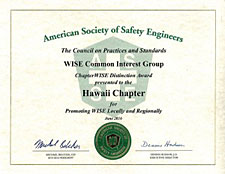 WISE Hawaii Chapter Development Luncheon
Twenty women gathered in September to hear two veteran Hawaii Safety Professionals speak at our first development luncheon as a chapter.  The topic was ""Delivering Safety Recommendations While Maintaining Credibility".  Our guest speakers shared their thoughts and experience on the subject and then opened up it for questions and rich dialogue.   Connections were made, business cards were exchanged, and expertise was shared.  A valuable experience for all who attended!
Our guest speakers:  Mary Browne (standing – 34 years as a safety professional, currently with Nordic PCL) and Mary Sullivan (sitting – 10 years in safety, currently with Delta Construction).
WISE Pau Hana – Friday (7/24)  Nico's at Pier 38
Pictured (left to right):  Aubrey Pabon (USAF), Jim Newberry (Island Insurance), Zoe Williams (Hawaii Gas), Barb Yee (Kiewit), Joey Garza (Hawaiian Cement), Tracy Revilla (Hawaiian Electric), and Cathy McCurnin (Armstrong Builders).